Amazon Quiz Answers Today
Amazon is once again back with a quiz answer contest that will commence from 8 a.m to 12 p.m every day. This contest can be accessed only on the App version of the e-commerce giant's website.
To be eligible, you must sign in from the app during the contest every morning. If you do not have an Amazon.in-app, you must download it from the play store right away.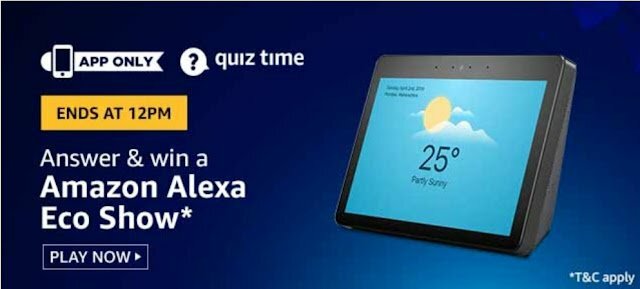 How to play Daily Amazon Quiz?
1) This is Amazon app-only contest, so you need to download Amazon app from play store
2) Now just open the Amazon app and log in your account
3) Scroll down on Amazon home page you will see Amazon Quiz banner
4) Click on the banner then start
5) Now there you will see total 5 questions and you have to select the right answer for each question.
6) After giving all right answer you will be eligible for lucky draw contest
7) If you are lucky then you win exciting prizes.
8) All contest winners announced on the 30th of every month on the Amazon app.
Amazon Quiz Date: 23th June 2020
Amazon Quiz Contest Prize:- Win

Alexa Eco Show Quiz

Quiz Timing: 8 AM – 12 PM
Quiz Winner Declaration: 30th June 2020
Amazon Similar Quizzes Answers
Today's Amazon Quiz Answers- 23rd June 2020
1) 'The Golden Gate', 'An Equal Music' are books by which famous author born on June 20?
Answer is – Vikram Seth
2) Hyundai Nexo SUV is the Presidential state car used by the President of which country?
Answer is – South Korea
3) Which businessman born on June 15th, owns 38% of the world's largest steel producer company and 20% of Queens Park Rangers F.C?
Answer is – Lakshmi Mlttal
4) Ferdia Shaw has played the role of which 12 year old genius in a movie released online on June 12th, 2020?
Answer is – Artemis Fowl
5) Which of these days observed on 12th June was launched by the International Labour Organization in 2002?
Answer is – World Day Against Child Labour