Withdraw Aladdin25 TNC To Bank Account 
Aladdin25 TNC withdrawal process, How to withdraw Aladdin TNC, Aladdin25 KYC process, Aladdin KYC verification, TNC to Bank or Paytm wallet- Finally Aladdin25 exchange has been launched, now it's all set for trade popular Cryptocurrency like Bitcoin, Ethereum etc.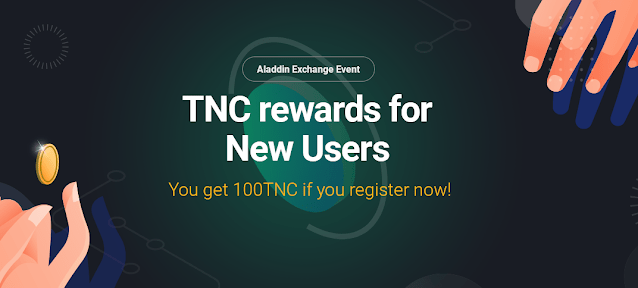 During the Aladdin25 pre-launched event it's offering free 100 TNC coins for registering new account. Now the time has come to withdraw sign up rewards to the Bank account. As per the Aladdin exchange rules, you must fully verify your account with valid documents. Upon your account verification, you will able to transfer your TNC rewards to the wallet.
Documents Required To Verify Aladdin25 Account
For KYC verification:
Residence registration card passport or driving license
Adhar Card / Voter ID accepted (Indian Resident Only)
Proof of Residential Address
Bank statements, or credit card statements
Electricity, water, gas or telephone bill
Tax bill or tax letter
Update- If you completed your KYC check your account your reward has been unlocked.
How To Verify Aladdin25 KYC-
1) First of all, log in your Aladdin account
2) Go to the profile section
3) Then click the Verification option
4) Select your Country and enter your phone number to verify
5) Next verify your Aladdin Pro Wallet
Note- You must create an Aladdin Pro Wallet account with the same email address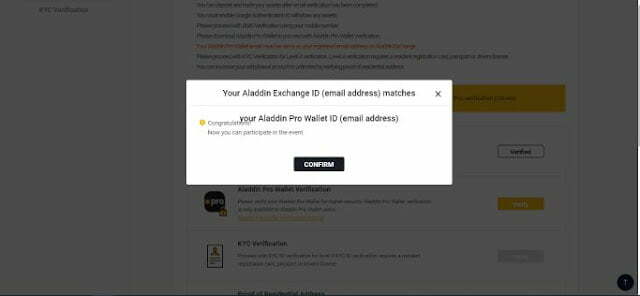 6) Now you have to verify KYC with valid documents
7) Just upload any one of the following documents Residence registration card, Adhar Card, Voter ID Passport or driving license
8) Next take a selfie holding your ID and a handwritten note with your email address, request date and the text "Request KYC Verification on Aladdin Exchange"
9) Make sure your face is clearly visible and the uploaded ID must be clearly visible and the uploaded photo is only used for non-face-to-face KYC verification
10) After uploading all documents agree with the Terms & Conditions and click on Submit button
11) Your documents will be review soon and your account will be fully approved
12) After KYC verification is complete your reward will be unlocked
How To Withdraw Aladdin25 TNC To Bank Account?
Aladin25 has not bank withdrawal feature, you have to transfer your TNC coins to another wallet. In that case, you can use the Hotbit app. We have posted Hotbit tutorial on our website, please check out for more information.
1) First of all, log in to your Aladdin25 account
2) Click on the Profile icon and go to the Reward section
3) Check your reward has been unlocked if you completed your KYC
4) Now you have to transfer TNC coin to Hotbit wallet
6) Copy your TNC deposit address from Hotbit
7) Now back again the Aladdin25 and go to the Wallet section
8) Select TNC coin and tap on Withdraw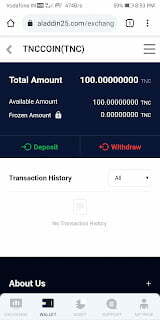 9) Then enter the address, momo you copied from Hotbit and select the total amount
10) Next complete verification process and place Withdrawal Request
11) You TNC will be transferred in Hotbit wallet within few minutes
12) Now visit the article below and follow the next process from Step No.10
Visit this article-
Final Words
This process may be difficult for you please read carefully and follow. If you face any problems you can comment here. Thank You!