Amazon UPI Money Transfer Offer
Amazon is offering flat ₹25 in the form of Amazon Pay balance on a minimum transaction of ₹1 when you send money using Amazon Pay UPI on the first transaction everyday on Amazon App till 31st march 2021. This offer is for selected customers only.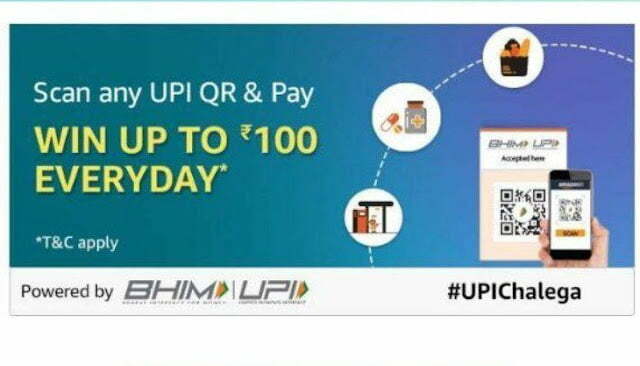 Flat ₹25 Cashback On Money Transfer-
1) First of all open the Amazon app
4) Check offer showing or not, if not showing that means you are not eligible
5) If showing the offer, click on it
6) Send money minimum Rs.1 using Amazon Pay UPI or QR code scan
7) You will get flat ₹25
cashback after the successful money transfer
8) Cashback will be credited within 3 working days
More Details :-
1. What is the offer? Do UPI Scan Payment and Get Flat ₹25 back
2. How can I earn this reward? 1. Do a successful UPI Scan Payment transaction 2. You need to make a min transaction of : ₹1 Note: 1. You will only receive the cashback if transaction is successful during the offer duration 2. You'll not receive any cashback if you pay for incoming collect request either through the Amazon Pay UPI handle or otherwise.
3. What is the offer duration? Offer is valid from: 03-Feb-2021 11:59:59 PM to 31-Mar-2021
4. Is there any promo code required? No additional promo code or coupon code to be applied. Just complete the underlying transaction successfully.
5. I don't have Amazon Pay UPI ID. What should I do? Go to Amazon Home Page -> Click on Amazon Pay to visit Amazon Pay Dashboard -> Click on "Amazon Pay UPI" tile on top of the page -> Start process for your UPI ID creation
6. When will I receive my cashback? You'll receive your cashback within 3 working days
7. What happens if I am eligible for more than one offer? If you are eligible for more than one offer, the offer that gives you the maximum benefit will be auto-applied.
---
Q1. What is Amazon Pay UPI?
Amazon Pay UPI is an easy, fast & secure way to make your everyday payments. You can now register for UPI through Amazon.in Android App on the version 18.5 or above and create your own UPI ID (e.g. phonenumber@apl). You can link your savings bank account to it and start making payments by scanning any UPI QR code at nearby stores, make payments on Amazon.in app and other third party apps/websites that accept UPI.
Q2. How can I Scan UPI QR via Amazon app?
Open Amazon app -> Click on "Scan" icon -> Scan any UPI QR code at nearby store -> Complete the payment.
Q3. How can I avail the cashback?
Scan any UPI QR code and pay at your nearby stores using Amazon app. You will get a random cashback between Rs 5 and Rs 2100, if you have already made a payment by scanning any UPI QR code using Amazon app on or before 10th July 2019
Q4. How many times can I avail this cashback?
This offer is valid only for first time users and applicable only once per customer.
Q5. Which all UPI QR code can I scan?
You can now scan any UPI QR code using Amazon app at your nearby stores and make hassle-free cashless payments.
Q6. I scanned a QR code at store but got an error message which said, "We do not recognize this code, please try another one." Why will this happen?
This will happen if you scan a non UPI QR code. Check out for UPI logo on the QR code 
Q7. I do not see Amazon Pay UPI, what should I do?
Amazon Pay UPI is only available on mobile app for Android customers. You must have the latest version of the Amazon app downloaded from the Google Play store in order to access Amazon Pay UPI.
Q8. When and where will the cashback be credited?
Cashback will be credited as Amazon Pay balance within 3 days of the transaction. You can view your available Amazon Pay balance here. This Amazon Pay balance is redeemable across products on Amazon.in and partner sites.