Britannia Gobbles Free Paytm Cash
Britannia Gobbles Free Paytm Cash
,
Britannia Gobbles
QR code, Free Paytm cash-
Get upto free ₹100 Paytm cash from Britannia Gobbles.
Britannia Gobbles running a campaign that is offering free upto ₹100 Paytm cash when you scan the Britannia Gobbles QR code on the Paytm app.
I have added the Britannia Gobbles QR Code just scan the code and get upto ₹100 Paytm cash. So don't waste your time and grab the loot before it expires.
We have recently posted the Cadbury Silk Offer which also offering free Paytm cash when you scan the QR code. Also you can try these
Perfect Brown Bread loot, OkCredit App, NHSEVEN app loot where you can earn free Paytm cash instantly. I hope you enjoy our loot deals and we
regularly post free Paytm cash earning apps on our website.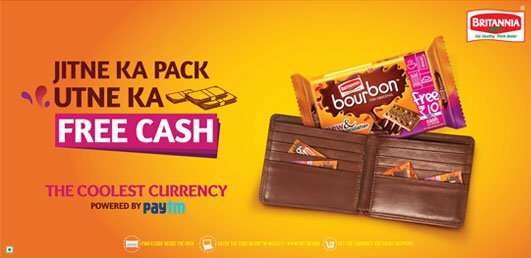 Scan The Britannia Gobbles QR Code & Get Upto ₹

10

0 Paytm Cash-
1) First of all, purchase a
Britannia Gobbles
pack from the nearest market (No need to purchase we have added the QR code)
2) Must check offer mentioned on the pack
2) You will find the QR code printed on the pack
3) Now log in your Paytm account
4) Open the QR code scanner
5) Now scan the QR code from the Paytm app
4) You will get a Congratulations message with instructions to link UPI with Paytm to claim INR 10/15/20 UPI cashback.
5) If you already have a UPI linked bank account with Paytm then you can claim INR 10/15/20
cashback by making any transaction (utility bill payment/ recharge/money transfer) of INR 48 or above.
6) Cashback will be credited to your UPI Linked bank account within 24 hrs.
7) One user can avail of the offer twice
8) Once the user scans the QR code is valid for 24 hrs only to avail of the offer.
9) Offer valid till 31st May 2021.