Flipkart Plus Membership offer, Tick to get Flipkart Plus Membership– Flipkart is offering Plus Membership for free check your account if you are eligible or not.
Flipkart has recently started its own loyalty program to keep customers engaged with its online marketplace. Titled 'Flipkart Plus', the loyalty program offers a number of benefits to its members. Flipkart Plus is a loyalty program that aims to reward customers for the purchases they make on the online marketplace. Let's take a look at some of the biggest benefits it offers.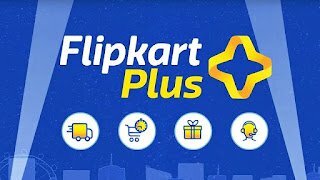 Read Also- How To Apply For Flipkart Axis Bank Credit Card
Flipkart Plus benefits:
Flipkart Plus offers free priority shipping on more than 3 crore products, according to the company. Needless to say, this will depend on your location. Plus members will get early access to Flipkart's promotional sales from time to time. Flipkart also promises priority customer care for its Plus members. Since Flipkart Plus is more of a loyalty program, members can earn rewards in the form of coins when they purchase products on the online marketplace.
Flipkart Plus members also receive special offers from websites and apps such as BookMyShow, Gaana, Zomato, MakeMyTrip, and others. These are available in the form of coupons, and unlock as you continue shopping on Flipkart. You can redeem your coins for some of these third-party coupons while you're a Plus member.

Filpkart brings a new offer for collage students , if you are a collage student then you will Filpkart Plus Membership. You just need to upload your collage id card
to the Flipkart portal. After verification, You will get Approval within 24 hours or later.
Get Flipkart Plus Membership Free For 3 Months
1) First of all, install or update your Flipkart app
4) You will see the Flipkart

Plus Membership banner if you are eligible
6) Click on the banner and your Flipkart Plus Membership will be activated for 3 months
Get Flipkart Plus Membership Free For 1 Year
1) First of all Visit Flipkart Plus Zone and open it.
2) Now Open the page Flipkart Exclusive Students Offer and you will be asked to upload details
3) Upload your Front side of Your College ID Card.
4) Now wait 15 to 30 days for verification.
5) After verification complete, you will Get Free Flipkart Plus for 1 Year.