FreeCharge Predict and Win
FreeCharge Predict and win offer,
FreeCharge Predict and win answer,
FreeCharge IPL game-
Play FreeCharge Predict and win game and win up to ₹1000 cashback daily.
IPL 2021 has been started on 9th April 19th September, during the IPL season, FreeCharge launched a game "Predict and Win' where you can predict and win exciting rewards daily. In the game, you have to predict the winning team and score. After the production is down you must do a transaction on the FreeCharge app. Lucky winner will get a cashback of ₹1000.

Also Read: Paytm Cricket League- Collect Cards & Win Upto ₹10000 or More Rewards
How Predict & Win ₹1000 Cashback On FreeCharge?
1) First of all, download the FreeCharge app from the play store
2) Install, open the app and log in your account
3) On the dashboard tap on the Predict & Win offer banner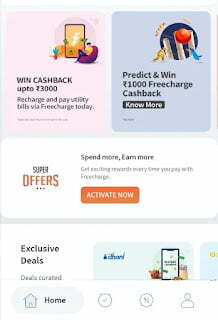 4) Enter your phone number, prediction of the winning team and max scores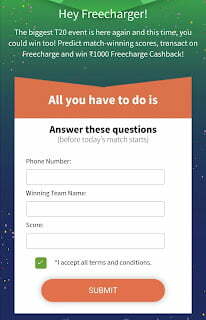 5) After the prediction click on the 'Submit' button
6) Now do transction on the FreeCharge app
7) One lucky winner will get ₹1000 cashback
Terms & Conditions:
The contest shall be valid from 9th April 2021 till 30th May 2021

Cashback/rewards through Free-fund codes shall be valid till 15th June 2021

The Customer enters their registered phone number and submits response to the question (make their prediction for the match) before the Contest match starts.

The customer shall complete one successful transaction (Recharges and/or Bill Payments) on the predicted match day.

At the end of the Match, all Customer (successful participated for this Contest) who's prediction is correct shall be eligible for Rewards/Cashbacks.

Winners will receive their cashback within 7-10 working days.