Get 3 Months Zomato Gold Membership Free
Zomato Gold Membership Offer, Zomato Gold Membership Promocode, Free Zomato Gold Membership
Online food delivery app Uber Eats

acquired

by Zomato.
Uber Eats is
officially a part of Zomato now.
If you have orderd from Uber Eats in india since jully 1 2019, your account is now set up on Zomato. Zomato offering 3 months Gold Membership free when you redirected to the Zomato app from Uber Eats. This offer is applicable for those users who ordered food before jully 1 2019 on Uber Eats. So don't miss the offer check you are eligible or not.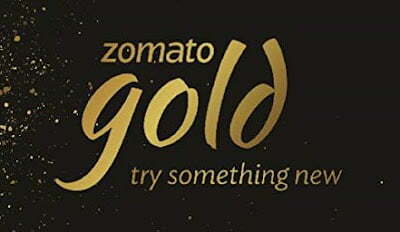 Zomato Gold Membership Benefits:
Gold members can enjoy benefits on food and drinks at separate partner restaurants. For benefits on food, you get the second most expensive dish in the order as complimentary. For benefits on drinks, you get one complimentary drink for every drink you order, up to a maximum of 2 complimentary drinks. The complimentary drink will be the same as the first drink ordered.
How To Get 3 months Zomato Gold Membership Free ?
1) First of all download the Uber Eats app from playstore
2) Open the app and sign in your account
3) Now it will ask to redirected to the Zomato app
4) Click on it and go to Zomato app
5) If you are eligible for this offer then you will get 3 months Zomato Gold Membership free
7) Click on 'Get Started' and activate the offer
8) Enjoy !
Terms And Conditions:
Each Gold partner restaurant offers the benefits on either food or beverages ("Offer(s)").
Use of Offer(s) requires a minimum of 2 people on the table.
Zomato Gold membership can be used only on a single mobile device at a time and may not be used in respect of multiple devices with a single registered email.
The Offer(s) can be redeemed only once in a day by a Zomato Gold member.
Only one Offer can be redeemed between two Zomato Gold members on a table and the maximum number of redemptions are restricted to two per table.
Member must be physically present at the time of redeeming Offer(s). Member must carry a valid ID proof.
Offer(s) should be presented to the partner restaurant before start of service.
Zomato Gold is not valid on takeaway. Take-away of leftovers is at the discretion of the restaurant partner.
Partner restaurant may charge additional charges, including but not limited to service charge, which are not covered under Offers at it's own discretion.
Zomato Gold cannot be combined with other offers.
Your membership plan will be automatically renewed at the expiration of your membership plan. You can cancel your membership at any time before the expiration of your membership plan.
Benefits on beverages are not valid on pitchers, buckets and full bottles and towers of drink(s).
Benefits on food are valid on all dishes on the menu except on special menus, set menus, platters, mixed grills, thalis, as per catch / size items, buffets, all you can eat and combos and any items that is for 3 people or more (when mentioned on the menu).
The complimentary beverage will be the same as the first beverage ordered.
The complimentary dish will be of the same or lesser value than the first dish.
Any discounts on the membership are valid for the first purchase only.
Zomato Gold is not valid on special occasion days (Valentine's Day, Christmas Eve / Christmas Day, New Year's Eve / New Year's Day, Diwali Eve / Diwali Day, Durga Puja (applicable in WB), Pongal (applicable in TN)), or on days prohibited by law or applicable regulations.
Exclusion period applies from start of operational hours for the day up till 6am of the following day.

By completing the purchase, you confirm that you have read and agree to the detailed

Terms and Conditions.