Win Free Eyeglasses Every 5 Minutes
Just give a missed call and win free Eyeglass in every 5 minutes. The
Lenskart Freedom Sale
started from the 14th to 23rd August 2020. Get flat ₹2500 off on all glasses with premium blue lenses. During the sale, Lenskart held India's Biggest Eyewear Contest. To enter the contest just give a missed call and win
free Eyeglass
every 5 minutes.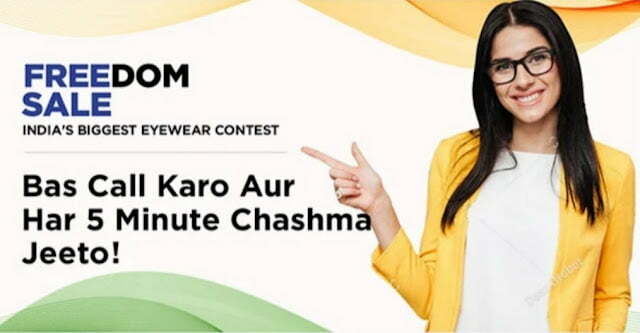 Lenskart is
India's No. 1 online shopping App for Sunglasses, Eyeglasses, Contact Lenses, Computer Glasses, Chashma, Goggles, Reading Glasses, Specs, Try glasses at home, Prescription Sunglasses & Eyewear Accessories.
How To Enter The Contest-
1) Just give missed call on 1800-111-123
2) After you will get a link via SMS
3) Open the SMS and click on the link
4) You will be redirected to the WhatsApp
5) Just send the message 'I want to participate in Freedom Sale contest'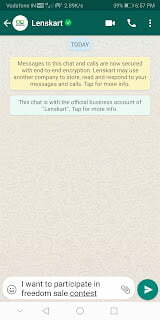 6) Instantly you will get a reply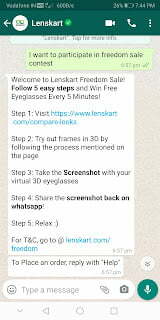 7) You will get instruction just follow it
8) Visit the link and try out frames in 3D
9) Just take a screenshot of your frame
10) Go back to the WhatsApp and share the screenshot to Lenskart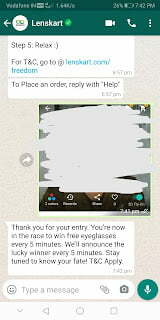 12)
Winners will be announced every 5 minutes
13)
All winners get a brand new pair of eyeglasses.
Terms & Conditions:
1. The sale is open to all Indian citizens of 18 years of age or more residing in India, except the employees of Lenskart/Company. This Offer is not valid in the state of Tamil Nadu
2. By choosing to participate in this sale, the Participant hereby confirms that he/she has studied these detailed Terms and Conditions and agrees to be bound by the same.
3. Sale offer starts from 9 AM IST on 14th August 2020 and ends at 4:00 PM IST on 23rd August 2020 ("Sale Period"), both the dates inclusive.
4. No purchase is mandatory. Participation is optional. To participate in the Sale Offer, the Participants have to submit their entries through the timeline on the Lenskart Website.
5. To participate and mark their entry, the Participants have to give a missed call on 1800-111-123 and share their Name & Ditto Picture on the link received through SMS.
6. Only one entry/winner will be chosen/accepted per phone number. However, multiple entries from the same phone number are permitted. The Company shall choose the entries basis the creativity and skill in the entries' Ditto pictures.
7. Winners will be announced every 1 hour from the Sale start date, that is, 14th August 2020. This excludes time from 12 AM-9 AM each day, during the duration of the sale.