Paytm Cricket League
Dream11 IPL is starting from the 19th of September 2020, during the IPL season team prediction are the most conventional topic and the most appropriate time to play Fantasy Cricket League.
Paytm enables you to play the fantasy cricket league on its app. Collect your players and create your own team then play cricket league and earn Paytm cash.
What Is Paytm Cricket League
Paytm Cricket League is a fantasy-based game where a user creates a virtual team with 11 players which are real players and your chosen team is awarded points based on the real-life performance of your selected players.
Once the match is complete, your win or loss will depend on your rank and what your player has scored during the match. Prize money will be distributed according to rank. On Paytm Cricket League you will get a chance to win a prize worth ₹5 Crore and also earn ₹9,999 Paytm cash daily.
We have recently posted new Fantasy cricket apps for 2020 which are offering ₹100 sign-up bonus and up to ₹1000 referral commissions.
How To Play Paytm Cricket League
1) First of all, update your Paytm app
2) Log in your account and click on the 'Paytm Cricket League' or visit 
Click Here
3) Skip the introduction part and go to the Dashboard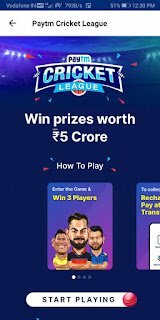 4) You will get 3 players which are the Captain, Vice-Captain and a normal player
5) Now you have to collect rest 8 players
6) You must need total 11 players to play Paytm Cricket League
How To Collect More Players- 
Request a player from your friends
Gift a player and get a player card
Pay at nearby shop and win M Pandey
Recharge your DTH and win J Bumrah
Pay Electricity bill and win Virat Kohli
Recharge a mobile and win a Bowler
Add money to wallet and win a Batsman
Pay at nearby shop and win All-Rounder
Send money from the bank and win a Captain
Pay using Paytm and win a Player
Offers & Rewards:
Collect Players and win up To Rs.1,000 Cashback
Collect Bowlers and win up To Rs.1,000 Cashback
Collect Captains and win up To Rs.2,000 Cashback
Collect Batsman and win up To Rs.1,000 Cashback
Play Every match and win up To Rs.9,999 Cashback
Score 300 In a Match and win up To Rs.2,000 Cashback
Enter the tournament Win up o Rs.1,00,000 Cashback
Score 15,000 Points and win up to Rs.10,000 Cashback