Paytm Maggi Pasta Offer
Paytm Maggi pasta offer, Paytm cash offer, Paytm add money promocode, Paytm Maggi pasta promocode, How to redeem Maggi pasta promo code: Paytm is offering Rs 25 free Paytm cash with Maggi Pasta pack of Rs 25. This offer is valid till 15th May to 30th Jun 2020. You can redeem upto 3 codes in one Paytm account.
How To Get Free rs 25 paytm cash with maggi pasta pack ?
1) First of all buy a Maggi Pasta pack of Rs 25 from nearby stores
2) Check before buying free Paytm cash offer mention or not on the pack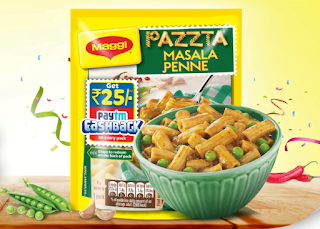 3) After purchase open the pack and you will see 8 digit coupon code inside the pack
4) Now send a sms with this following format bellow
SMS MAGGIPAZZTA 8 digit unique code to 7036184000
6) After you will get 14 digit Paytm Cash promo code via SMS
Process to redeem promo code:
Open registered Paytm website/App
Put Rs 25 in Amount & click on "Have a Promocode"
Enter Promocode & Apply to Proceed
You will get Rs 25 Paytm cash into Paytm wallet
Terms and Conditions:
he consumer needs to find the unique 8 digit alphanumeric code inside the Promotion Product to obtain a unique code (hereinafter referred to as "Code"). The consumer can use this Code to avail a Rs. 25/- cash back from the Website and/or PayTM App.
Consumers participating or seeking to participate in the Promotion shall individually be referred to as "Participant" and collectively as "Participants".
Participation in this Promotion is purely voluntary and optional. This Offer is not valid in conjunction with any other Offer. Products also available without this Offer. By participating in this Offer, each participant is deemed to have accepted these terms and conditions.
This Offer is being conducted by the Organizer and sponsored by Nestle India Limited during the Promotion Period defined hereinafter.
A Consumer who sends the unique code mentioned inside the Promotion Product, between 15th May 2020 to 30th June 2020 (hereinafter referred to as the "Promotion Period"), will get a unique Paytm Cashback Coupon Code, an 8 digit alphanumeric code via SMS on the number.
The Participant can to use the Code, during the Promotion Period to avail a Rs. 25/- PayTM cash back from the Website and/or PayTM App. Participant can enter the code during checkout to avail cashback. Cashback will be credited in Paytm wallet of the Participant from which the Code was sent within 72 hours.
This Offer is valid only in India. The Offer is valid for the citizens of India (except the employees and family members of the Organizer and Nestle India Limited, their associate companies, their joint venture partners, its co-packers, their distributors, their agents, their advertising and promotional agencies and their auditors.)
Paytm cashback is the term used to define Paytm cash that Participant gets when he/she applies the code on the Website and/or the PayTM APP. No cash would be given in lieu of Paytm cash.
Each unique Code can be used only once to redeem the Cashback.
This Offer can be availed only 3 times by each Participant using a single PayTM Account during the Promotion Period. Any Participant, using a Code more than 3 times form a single PayTM Account, will not be eligible for availing the PayTM Cashback.