PLAYit App Collect 5 Cards & Get ₹5000 Paytm
PLAYit App Referral Code, PLAYit Refer & Earn, PLAYit App Collect Cards Offer: Hey guys, we are back again with a big loot like Google Pay Diwali Offer. This is about PLAYit offer, where you have to collect total 5 cards and will get assured ₹500 -₹5000 Paytm cash for free.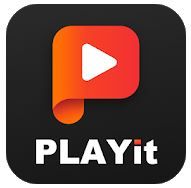 About PLAYit
Playit, the all-in-one media player and downloader is ready to provide you a feast for eyes and ears. Download and enjoy the latest Bollywood movies, Hollywood movies, Hindi movies and other local video clips in all formats ( MKV videos, FLV videos,M4V videos, etc)
Besides, you can also directly download and save videos from Facebook, Instagram, WhatsApp and other social media.
Collect 5 PLAYit Cards Get Up To ₹5000 PayTM Cash
1) First of all download PLAYit app from  here
(Download)
2) Install, open the app and go to the Dashboard
3) You will see the offer banner on the top of app
4) Click on it and you will two free cards
5) Now enter this referral code and get one more card – nxL2
6) Click on Get More Card and complete tasks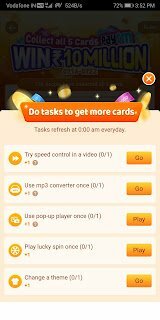 7) Share your referral link with friends and get more cards
8) After collecting all 5 cards you can redeem your rewards in Paytm wallet
How To Collect More Cards
Share Extra Card With Friends
Invite Friends
Speed Control Video
Use Mp3 Converter
Play Lucky Spin
Download One Video
Watch One Minute Videos
Listen Two Music Songs
Unlimited Refer Bypass Script
Download  Parallel Space from play store
Install, open the app and add PLAYit app in Parallel Space app
Now open PLAYit app then click on the offer banner
Pick a card & enter your referral code and done
Clear Parallel Space data & repeat these steps
Extra Rewards –
1) ₹501- Win Extra
The first 1000 winners to collect all 5 cards will receive an additional cash reward of ₹501
2) ₹101
The user rank after 1000 with the last three digits 101 can win extra ₹101
Terms & Conditions:
1.Activity time: July 16, 2020 10:00 am – July 22, 2020 24:00 pm
2.Users can collect all 5 card ['love', 'health & safety', 'wealth', 'career growth' and 'happy family' ] through the card drawing.
3.System will give one card drawing opportunity every day, and would be given only when users enter the activity page.
4.Users can earn draw chance by completing tasks. User can invite 100 friends and send card to friend once per day. Other missions can only be done once during the whole activity.
5.You can give cards to your friends and also ask your friend to send you cards
6.Users can only send the cards they have to others, the amount of card would be less no matter your friend receive or not, and the receive link would expire after other users receive or the activity is over.
7.Users who collect a whole set of ['love', 'health & safety', 'wealth', 'career growth' and 'happy family' ] cards can carve up 10 million Rs and immediately get a random cash reward. The same mobile phone number/ account/ device/ IP can only get cash reward one time.
8.The amount of cash you win is related to the time it takes to collect cards. The earlier you collect, the more cash rewards you get. The first 1000 users will receive an additional cash reward of ₹501. If you rank after 1000 with the last three digits 101, you can win extra ₹101.
9.Users need to share activity posters 3 times, pass the mobile phone number and personal information (including paytm account) verification before withdrawing cash. Users need to apply for withdrawal befor the event over. The event would be closed at the end of the event.
10.The bonus would be received within 1-15 work days after withdraw, please kindly check. if you have any other questions, please check FAQ.
11.If the user uninstalls PLAYit APP during the event and the event data and bonus are lost, PLAYit will not bear any responsibility.
12.The final interpretation of the activity is vested in PLAYit.