BharatPe App Refer Earn
BharatPe App, BharatPe App Refer and earn, BharatPe App download, BharatPe App referral code, BharatPe App free bat-
Hello guys, I am back with a latest UPI payment app BharatPe. We regularly post the latest
cashback offer
, loot deals etc. Recently we have posted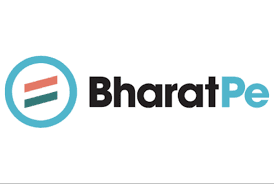 BharatPe is a one-stop payment solution in India. Accept UPI payment, send and receive money, mobile recharge, bill payment and more. Designed for merchants to manage your business.
How To Register On BharatPe-
1) First of all, download the BharatPe app from here
Download
2) Install, open the app and sign up with your mobile number
3) Verify your number with OTP
4) Then link your Bank account
5) Go to the Dashboard and click on My Business Card option
6) You will get your QR code to receive payment and download it
7) Now send just ₹10 to your BhartPe UPI id from your other UPI app like Google Pay, Paytm
8) You will receive 200 runs as sign up and 300 runs for receiving 1st transaction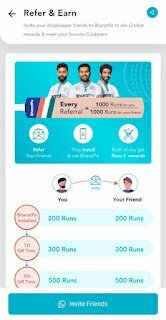 BharatPe Refer & Earn Offer
1) On the Dashboard click on the Invite Friends section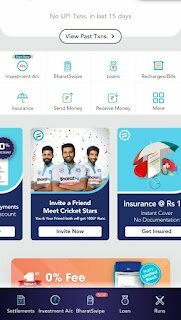 2) Share your referral link with your friends
3) Ask your referred friends to send ₹10 to your BhartPe QR code from any UPI payment app like Google Pay, Paytm
4) You will get 1000 runs each successful referral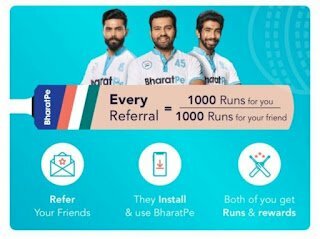 Note- BharatPe app is designed for merchants to accept payment.
How To Redeem Runs For Rewards
You need 1000 points to redeem a reward, just refer 1 friend and get your reward.
Rewards
500 Runs: Miniature Bat 15 inches (Autographed)
500 Runs: Free Size Cap (Autographed)
550 Runs: Cricket Ball (None Lether) (Autographed)
1000 Runs: Cricket Leather Ball(Autographed)
1100 Runs: Cricket Jersey(Autographed)
2000 Runs Full-Size Bat 34 Inchs (Autographed)
75000 Runs: Lenovo M10 Tablet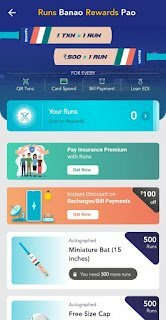 Proof-
Scoring Logic (whichever is higher)Following are relevant/Most important terms
Merchants earn 1 Run for every transaction above Rs 100/-
OR
1 Run for every cumulative Rs 500/- in value.
This is applicable on the following transaction types:
QR/Link Collections
Interest Earned via Interest A/c
Loan EDI repayments
Bill Payment
XtraIncome Card Spends ( excluding ATM withdrawals)
Example 1
Merchant collects payments through 2 transactions – Rs 150/- & Rs 1,350/-
Earns 1 Run for 1st transaction
Earn 2 Runs for 2nd transaction
Example 2
Merchant collects 9 payments of Rs 50/- each & then makes 1 Prepaid recharge for Rs 50/-
Earns 1 Run for cumulatively transacting for Rs 500/- in value
Example 3
Merchant spends Rs 20,000/- via their XtraIncome Card
Earning 40 Runs = 20,000 / 500
Rewards
Users can earn Runs & build up their score to unlock rewards:
From Spending a day with a cricketer of their choice.
To collectables like hand signed cricket memorabilia etc more.
One Merchant can claim a maximum of 11 rewards.
Reward redemption will start from April 15.
Merchants need to have accepted QR payments from at least 30 unique payers since April 01, 2020.
Delivery of merchandise
Inspection of the Reward shall be sole liability of Merchant. BharatPe reserves its sole right in case of acceptance, refund, redeliver or cancel the same.
Rewards will be delivered wherever possible by FOS agents and shipped by courier to the rest.