Free Drawstring Backpack Sample
Freebies, Free Sample, Free Products Loot, Sticky Thermometer Free Sample
Hey guys, we have recently posted a freebie on our website, so today we are posting a new freebie. Here you can get a free Sticky Thermometer sample. To get this free sample j
ust fill up your details and get it yours.
If you want to experience the quality of Qualigifts sticky thermometer, simply request a free thermometer sticker sample. Easy to install, just peel off the back of the sticker and the transparent protective film at the front and stick it on, that is it. The thermometer strip has a range of 64°F to 93°F and 18°C to 34°C. The large numbers are centigrade and the small numbers are Fahrenheit.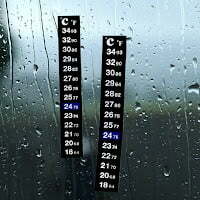 About Qualigifts-
Qualigifts aims to stand out as a leader in the business of providing quality products for zoos, museums, aquariums, botanical gardens, amusement parks, water parks, attractions, gift shops, and specialty shops by offering only high-quality products particularly designed to ensure client satisfaction.
How To Get The Backpack Sample-
1) First of all, visit the Qualigifts offer page
Click Here
2) Filled your all details correctly
4) Done, you will get the free sample within 15 days