Google Pay Go India Mumbai Event
Google Pay Go India, Go India Game Mumbai Ticket, Mumbai Event Answers, Mumbai City Tickets- Play Google Pay Go India Game and win ₹101-₹501 rewards. Google Pay recently launched an interesting game on the Google Pay app, where you can explore all cities in India and win up to ₹501 rewards. If you haven't started the game yet, download the Google Pay app now.
It's a game where you have to collect city tickets and Kilometer (KM) to visits any city, you will get an event when you will visit the city join the event and extra rewards. There is a special event from 7th November to 9th November 2020 in Mumbai city, join that event and earn ₹20-₹100 reward.
So in this article, I'm going to share how you can collect Mumbai ticket and KM easily.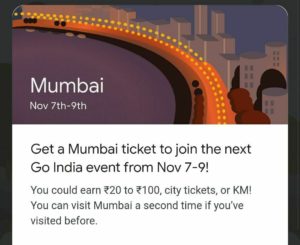 Read More- Go India Game Jaipur Event- Win Upto ₹100
Hoy To Visit Mumbai City In Google Pay Go India Game-
1) New user need to download the Google Pay app
2) Open the app click on 'Go India' game
3) Visit the "Mumbai' city and join the event
4) Give all answers correctly
5) You will get a scratch card worth up to ₹100
How To Collect Hyderabad Ticket & KM-
Earn Mumbai City Tickets:
Share a photo or the Go India map and earn 5 city tickets daily
Request the Hyderabad ticket from your friend

Making Mobile Recharge

Purchase Google Play Store Recharge Code Via Google Pay Upi

Pay Local store or Online merchants

Pay DTH, Electricity, LPG bill etc
Earn KM:
Open daily and get Morning Gift

Gift a Go India city ticket to a friend

Share a photo or the Go India map

You can help your friends to collect KM

Use Google Pay to pay your friend on Google Pay

Do a bank transfer on Google Pay

Pay to another user's UPI ID
Go India Game Mumbai Event Answers-
1) Mumbai's famous Marine Drive is Located in Which Part of the City?
Answer- South Mumbai
2) The Wankhede stadium is Mumbai hosted the finals of which major men's Cricket tournament that India Won?
Answer- 2011 World Cup (50 Overs)
3) The Mumbai Dabbawallas are known for :
Answer- Delivering hot lunches to customers
4) Which of the following is not a Maharashtrian Food Specialty?
Answer- Vada Sambhar
5) You Found a Buyer for your old furniture just before diwali. To Receive money, the buyer has asked you to follow the steps on a google pay payment request sent to you. You reach the 'enter UPI PIN' screen. You Should:
Answer- Never Open GPay or Enter UPI to Receive Money
6) Many International Cricketers started at this cricket ground/academy in central mumbai
Answer – Shivaji Park
7) Which Of The Following is not a Beach location in Mumbai
Answer – Powai
8) How much island has been merged for Mumbai City?
Answer- 7 Island
9) Wired cable sea link bridge joines which place of Mumbai
Answer- Bandra & Worli