Google Pay Go India Offer
Google Pay Go India Offer, Google Pay Go India Visit Cities offer, Google Pay Go India Tickets, Google Pay Go India Collect KM- Google Pay brings an interesting game 'Google Pay Go India'. Visit all cities on the Go India game and earn assured rewards up to ₹501. It's a game where you will experience India virtually with Google Pay.
What Is

Google Pay Go India Offer?
It's a game where you can explore all cities of India virtually on Google Pay.
To visit any cities you have to collect city tickets and
kilometers ("KM") which you can collect by making bill payments,
sharing to or asking a friend. Cities will be allocated within 6 regions on the map. You will see the total number of cities in a specific region once you visit a city within this region.
After visiting all cities
i
n the game by 25 November 2020" to win the Go India Champion reward ₹101 to ₹501.
Update- Offer extended till 26th December 2020
How to enable Go India game?
1) First of all, download or update the Google Pay app
2) Complete the sign-up process (Know more)
3) On the dashboard you will see the "Google Pay Go India" game banner just click on it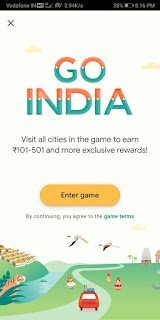 4) Then tap on 'Enter Game' button and start exploring the cities
Visit Daily & Collect Free Tickets
How do I visit cities?
You will start your journey from any of the two starting cities: Amritsar or Bengaluru. Once you launch the game for the very first time, after city selection, you will get a welcoming one-time gift which may be a combination of a city ticket and KM.
To visit any city within the game, you would need to collect both city ticket and kilometers (KM):

A city ticket will allow you to travel to a specific city within the game — the city ticket you collected will specify which city you will be able to visit.

KM enables you to travel between cities — you can visit a city of your choice from the present city location if you have enough KM to reach the city.

The number of KM needed to visit one city from another city is different and generally based on the real distance between them. You will see a total number of KM needed to travel to a certain city in-game.

You will receive a city photo upon reaching every city.
You will not be able to travel back to the same city unless there is a virtual event during the game. The total number of cities you can visit per day is limited but will not be less than 3 cities – you will see an in-game notification once you reach the current applicable limit.
How To Collect City Tickets?
There are lots of ways to collect them! You can make any of the following qualifying transactions to get a city ticket. You can get a ticket to the city for which you already have a ticket. This can be shared with friends to get KM in return.
Making Mobile Recharge

Purchase Google Play Store Recharge Code Via Google Pay Upi

Pay Local store or Online merchants

Pay DTH, Electricity, LPG bill etc

Share a photo or the Go India map

Request a city ticket from your friend
How To Collect KM?
Open daily and get Morning Gift

Use Google Pay to pay your friend on Google Pay

Do a bank transfer on Google Pay

Pay to another user's UPI ID

Gift a Go India city ticket to a friend

Share a photo or the Go India map

You can help your friends to collect KM
Terms & Conditions
This offer is subject to your compliance with the Google Pay Terms of Service.

The game is active till 25 November 2020.

You can visit all the cities listed in the game during the Offer Period to earn rewards.

You must successfully earn a city ticket or kilometres ("KM") to visit cities within the game.

City tickets will allow you to travel to specific cities within the game. The ticket you earned will specify which city you will be able to virtually visit.

KM enables you to travel between cities, you can visit a city of your choice from the present city location if you have enough KM to reach the city.

You must successfully complete any of the following actions to be rewarded with a city ticket (each a "collection method" or "method"):

Make a mobile recharge on Google Pay.

Only mobile recharges made on the Google Pay app are eligible for this offer. Mobile recharges made on third party websites/apps and paid via Google Pay are not eligible for the offer.

Purchase Play Store recharge codes on Google Pay or pay via UPI on Google Play.

Visit the 'Bill pay' page on the app, search for the 'Play Store Recharge Code' icon and you can start purchasing Play Recharge Codes.

Payment on the Google Play Store site or app using your Google Pay UPI ID.

When making a payment, choose Google Pay as the payment option and enter your Google Pay UPI ID.

The transaction amount must be Indian Rupees Thirty (INR 30) or more.

Pay to a Google Pay QR code at a local shop and select online merchants

Scan the merchant Google Pay QR code using the QR scanner on the homescreen of the Google Pay app.

The transaction amount must be Indian Rupees Thirty (INR 30) or more.

You can earn one city ticket per unique merchant per day through this method. Yo can collect a maximum of 3 city tickets every day with this method.

Payments for YouTube using Google Pay are not eligible for this offer.

More Details click here