Flipkart Student Club Offer
Flipkart Student Club, Flipkart Student Verification, Flipkart free plus membership- Flipkart launched a new campaign especially for students, during the campaign all eligible students upon successful verification will get the following exclusive benefits. To get verified students must have to provide their college details and ID card. This offer is valid from 5th March to 31st August 2021.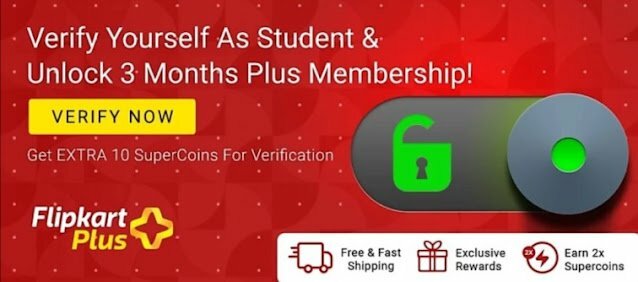 What Benefits I will get?
Free 3 Months Plus Membership
Following offer cannot be bundled on a single purchase
Flat ₹50 off on purchase of ₹500 or bellow
Flat ₹100 off on purchase between ₹500 and ₹1000
Flat ₹200 off on purchase between ₹1000 and ₹3000
Flat ₹500 off on purchase between ₹3000 and ₹7500
Flat ₹750 off on purchase of more than ₹7500
What is the Offer Eligibility Criteria?
To avail of these benefits, you must verify as a student with your valid details
What Details I have Required?
Details such as name, college name
The validity date of the ID card has passed or you can submit library card, fee receipt and bonafide certificates
How To Verify And Avail The Benefits?
Log in your Flipkart account
Visit the Flipkart Student Club offer page on your mobile
You will see the banner just click on Verify Now button
On the next page tap on the 'Get Started' option
Select your Institute and upload your Student ID of both side
Then click on 'Continue'
Verification takes up to 5 working days
After successful verification, you will get the Benefits
Terms & Conditions:
• Following offers will be given for verified students • Free 3 months Plus membership will be credited on or before 15th Oct'20
• 10 Supercoins will be credited on or before 15th Oct'20
• Flat discount of Rs750 on purchase on the products showcased in the below link from 16th Oct'20 -30th Nov'20
• 200 Super coins will be credited to the customers who have purchased these products in the above-mentioned timeline